Meet Chief Inspector Arthur Glasford. I joined the Police Cadets in 1989, not knowing if I wanted to make Policing a career. Here I am, 31 years later, still enjoying the journey! The decision to make policing a career, is one that I have never regretted. My entire family has been a huge support mechanism throughout my career, they are my biggest supporters. I have had the opportunity to work in many different sections of the Bermuda Police Service during my 31 years of policing. I have had a well-rounded policing career.I've been assigned to the Uniform Divisions, Investigative Units, Roads Policing Unit (formerly Motorcycle Patrol Section), Cycle Squad, the Emergency Response Team, the Underwater Search and Rescue Team, and held the post of Government Security Officer whilst in Special Branch. I am a certified Search and Rescue Diver, and Close Protection Officer. I have completed several overseas police training courses in the U.K, United States, and the
Caribbean. I have had the opportunity to work on joint investigation teams in Anguilla and Jamaica.
My fondest memories during my policing career, was in 2005, when I was seconded to the Royal Anguilla Police Force for 3 weeks to assist with a murder enquiry. Opportunities such as this have allowed me to experience policing in different cultures.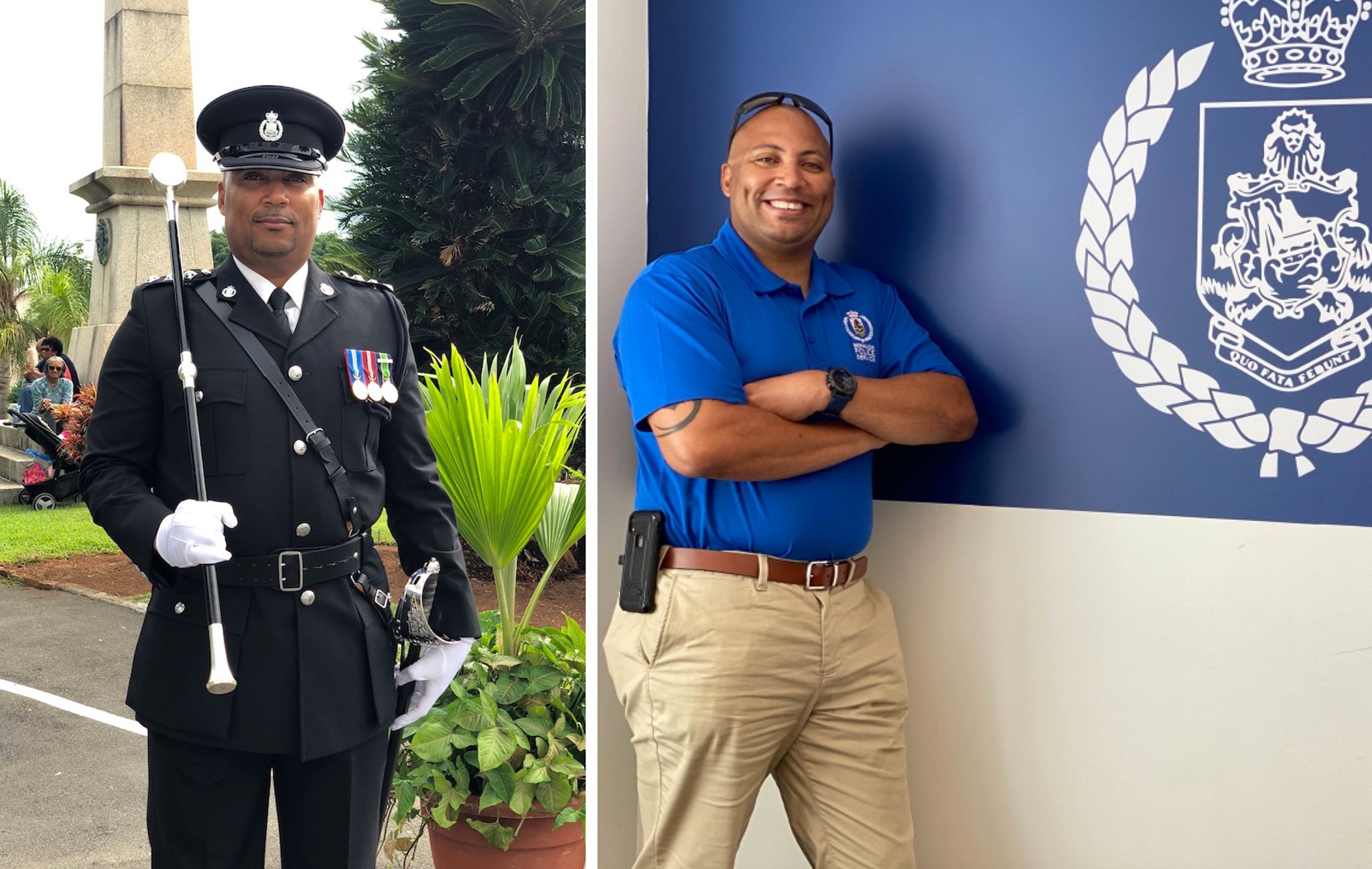 I have also had the opportunity to work with very diverse groups of people, from Governors, Premiers, Dignitaries, and members of Royal Families hailing from the United Kingdom, the Caribbean, Malaysia, Monaco and Jordan. In November 2018, I had the honour and privilege to perform the duty of Gentleman Usher of the Black Rod during the Convening of Parliament Ceremony.I am currently the Chief Inspector of the Serious Crime Department which includes the Serious Crime Unit and the Vulnerable Persons Unit. During my tenure here I have been able to foster good working relationships with other inter-agencies such as Department of Child and Family Services (DCFS), the National Crime Agency (NCA) in the UK and many of the Overseas Territories. I have come up through the grass roots of the Bermuda Police Service and have worked my way through the ranks. In return I have served my community to the best of my ability to make Bermuda safer.I am a member of the Bermuda Bicycling Association (BBA) Board of Directors, after having served on the Executive Committee of the BBA for several years. I am an avid sportsman, and other than cycling I like to play squash, softball, and do strength/circuit training. I am also a member of the Bermuda Garrison Lodge.
In my day to day work as a Police officer I abide by many personal values. These values are integrity, honesty, accountability, commitment, kindness, and respect. In my role as a Leader in the BPS I always strive to empower my team and allow them to take part in the decision making process. A quote by John C. Maxwell, best describes my leadership characteristics, "Good leadership isn't about advancing yourself. It's about advancing your team."
Meet Chief Inspector Arthur Glasford
<p>Meet Chief Inspector Arthur Glasford</p>