LATEST NEWS, inside the BPS
Condition Update: 16 Year Old Girl Remains in the Intensive Care Unit
Thu, 2017-12-07

At last check earlier this morning (December 7th) the 16 year old girl hurt when the auxiliary (50cc) cycle she was riding went over an embankment along South Road, Paget in the vicinity of Southcote Road around 7:55pm Friday remained in stable condition in the hospital's Intensive Care Unit.
2017 Christmas Road Safety Press Conference
Thu, 2017-12-07

Minister of Transport & Regulatory Affairs The Hon. Walter Roban, JP, MP: Good morning: Road safety is a very serious issue and I have a simple message for all drivers, but especially for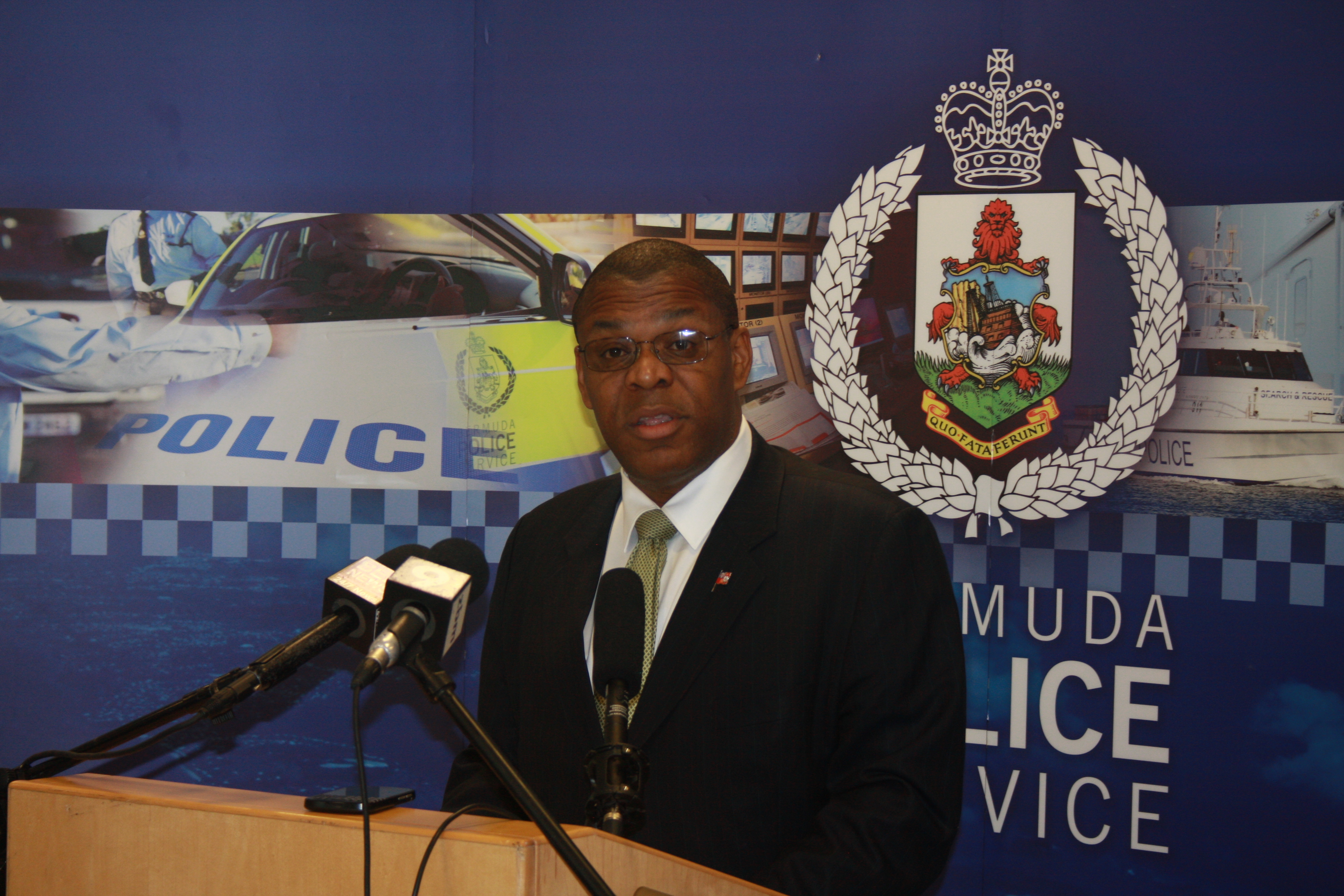 young male drivers. Slow down. Our roads have no room for error.
Stop making other drivers react to your excessive speed. Many don't have your highly-tuned reaction times. In addition…and this is something you will hear again and again today…do not drive when impaired.
Road traffic accidents are taking a terrible toll on Bermuda…and they mostly affect younger people in the prime of life. The number one external cause of death in Bermuda, (i.e. death that is not from illness or disease), is transport accidents at 34.8%.*
Update: Two Car Collision on North Shore Road in Smith's Parish
Wed, 2017-12-06

A two car collision that occurred around 7:45pm Sunday, December 3rd on North Shore Road, Smith's parish in the area of Flatts Village resulted in no serious injuries.
The two cars were apparently being driven in opposite directions at the time.
It is now confirmed that three people were involved.
Renewed Witness Appeal: Pompano Beach Club Robbery
Tue, 2017-12-05

The investigation into the armed robbery involving a bladed article that occurred around 11am Monday, December 4th at Pompano Beach Club in Southampton continues.
Both male suspects were described as light complexioned and 6 feet tall, wearing dark coloured jackets.
There were no injuries reported and the scene was processed by the relevant police personnel.
Reported Robbery at Pompano Beach Club
Mon, 2017-12-04

A few minutes after 11am Monday (December 4th) police officers responded to a report of an armed robbery that took place at Pompano Beach Club in Southampton.
Initial reports indicate that two men on a motorcycle arrived at the hotel, with one entering the establishment brandishing a bladed article and demanding money.
Roads Policing Unit: 21 Collisions Reported Over the Weekend
Mon, 2017-12-04

There were 21 collisions reported over the weekend – 10 reported as damage only, 8 reported as minor injury and 3 reported as serious injury. In addition, 4 people were arrested on suspicion of impaired driving and 39 speeding tickets were issued, with the highest speed recorded at 102 kph. Police continue to be highly visible on the island's roads, conducting a series of road safety initiatives. However, the public must also do their part and take personal responsibility for their driving and riding behaviours.
Condition Updates on Four Injured in Three Separate Crashes Friday
Sun, 2017-12-03

Three separate collisions Friday, December 1st left four persons injured – two of them seriously.
South Road, Paget – A 16 year old female rider and 16 year old female pillion passenger were hurt in a single vehicle crash when the auxiliary (50cc) cycle they were traveling on went over an embankment along South Road, Paget in the vicinity of Southcote Road around 7:55pm Friday.


BPS PHOTOS


BPS TWEETS


bps facebook

security advice for women

Reduce the risk of
becoming a victim of crime with
these simple tips.
Read More >>

robbery prevention

Take steps to reduce the
opportunities for criminals to steal.
Read More >>