LATEST NEWS, inside the BPS
Three Hurt in Southampton Collision Treated & Discharged
Tue, 2018-06-26

Around 6:45am today (June 26th) police and fellow first responders attended a reported collision involving a motorcyclist and a pedal cycle rider on South Road in Southampton, near the junction with Turtle Bay Lane.
It appears that the female motorcyclist with a male pillion passenger and the male pedal cycle rider were traveling in the westbound lane of South Road when the collision occurred.
Sudden Death in Warwick
Tue, 2018-06-26

Around 11am today (June 26th) police and fellow first responders were dispatched to a reported medical emergency at a Forest Hills Drive, Warwick residence.
It appears that a caregiver discovered a male resident in the home's swimming pool in an unresponsive state.
CPR was commenced and continued as he was rushed to the King Edward VII Memorial Hospital via ambulance, but the man was later pronounced dead.
Male Rental Scooter Rider Critical in ICU After St. George's Crash
Mon, 2018-06-25

Around 10:50pm Sunday, June 24th police and fellow first responders attended a reported single vehicle rental scooter crash on Wellington Slip Road in St. George's.
It appears that the rental scooter rider – believed to be a 44 year old St. George's man – struck a low wall before continuing on to an area of grass near the roadside where he struck a metal post.
Pedal Cyclist Seriously Injured in Collision With Motorcyclist [Updated]
Sun, 2018-06-24

Police and first responders attended a report of a road traffic collision that took place on Middle Road in Devonshire and Vesey Street at 11:48pm on Saturday night.
Details are still emerging but it appears that a man on a pedal cycle was exiting Vesey Street when he rode into the path of a man on a motorcycle traveling west on Middle Road.
Commissioner Designate Mr. Stephen Corbishley's First Official Remarks
Thu, 2018-06-21

Commissioner Designate Mr. Stephen Corbishley - Good morning to you all.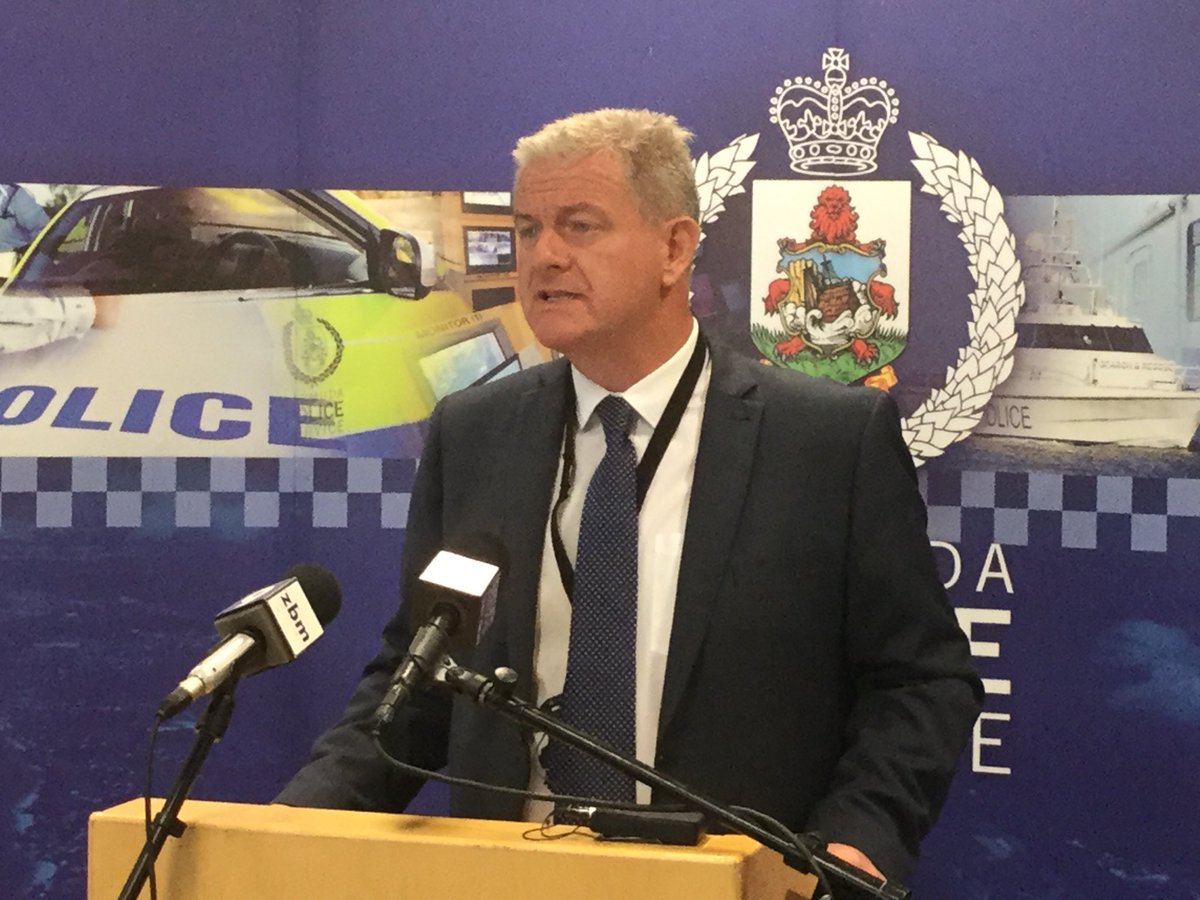 My name is Steve Corbishley, and as said I am the incoming Commissioner of the Bermuda Police Service.
I'm delighted to be in Bermuda and I've spent the past week engaging with staff, speaking to front line officers, supervisors, understanding their views and their needs in regards to the Bermuda Police Service – and making it the best it can be.
I've also had opportunity to speak with Government, Government House about some of their expectations and some of the challenges that we face in going forward.
Police Vehicle Crash in Devonshire [Updated]
Wed, 2018-06-20

Around 4:30pm today (June 20th) police and fellow first responders were dispatched to a reported single vehicle crash in the Middle Road, Upland Street Devonshire area.
Details are limited at this time. However, initial information indicates that a police van struck a pillar.
Apparently the driver of the police vehicle was hurt, but his injuries are not believed to be life threatening.
Two Bermudian Men Arrested in UK on Terrorism Related Charges
Tue, 2018-06-19

The Bermuda Police Service can confirm that two Bermudian males that have been living in the UK for a significant period of time were arrested on terrorism related charges after UK authorities were alerted to a Bury, Greater Manchester residence.
The two men, said to be 24 years old and 23 years old by UK media, were remanded into custody and are scheduled to appear in a UK court for a preliminary hearing on June 29th.


BPS PHOTOS


BPS TWEETS


bps facebook

security advice for women

Reduce the risk of
becoming a victim of crime with
these simple tips.
Read More >>

robbery prevention

Take steps to reduce the
opportunities for criminals to steal.
Read More >>